Hello all,
I decided to create a wiki on The Walking Dead: No Man's Land because there is a lack of information about this game.
Every contributions to this wikia will be greatly accepted. Thanks for your help.
Welcome to the "The Walking Dead: No Man's Land" Wikia
Edit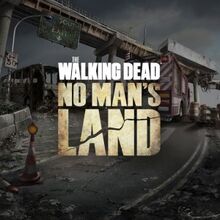 The Walking Dead: No Man's Land, official mobile game produced by Next Games and based on AMC's "The Walking Dead" has launched on iOS 8 October 2015 and Android on 29 October 2015.
The slogan for the game is "Stay Human. Survive". You will control a group of survivors with your only objective being to keep them alive. Decisions for food, water, and shelter will be made with life and death consequences. Sacrifices will be made and tough choices lie ahead as not everyone will make it out alive. Along your journey, you will save other survivors from Terminus as well as the prison.
Additionally, you will be solving strategic puzzles all while building your group and developing a safe refuge. Some of the features included will be weekly challenges, story missions, and much more.
In this wiki
Edit
Stories and locations, Stories Rewards
Survivors, Survivors Slots, Radio, Charge ability, Bleeding, Burning
Movement (Survivors & Enemies)
Traits
Equipment (Weapons and Armors), Outfits
Buildings
Walkers
Guilds
Weekly challenge, Missions
Outpost, Trade Goods, Influence
Daily Quests
Achievements
Gold, Bundle
Cinema & Video
Map
Guides: Beginner Guide, Damage Guide, Farming XP Guide, Edit Guide, Playing on PC Guide
Updates
Forum
Bugs
Suggestions (Games Improvement)
Characters tied to the story

List of all characters in Seasons missions.
Highlights (Glenn, Rick, Maggie, Carl, Carol, Daryl, Michonne, Merle, Morgan)
Season 7 (Negan, Rick, Morgan, Daryl, Jesus, Michonne, Sasha, Dwight, Eugene, Ezekiel, Rositta, Carol)
Season 8 (Rick, Aaron, Daryl, Jesus, Carol, Jerry, Ezekiel, Negan, Gabriel, Rositta, Eugene, Dwight, Tara, Daryl, Morgan, Rositta, Maggie)
Season 9 (Carol, Rick, Daryl, Aaron, Maggie, Rosita, Michonne, Negan, Survivor Rick, Sasha and going...)
Latest activity
Edit
Photos and videos are a great way to add visuals to your wiki. Find videos about your topic by exploring Wikia's Video Library.